Online digital sales via iTunes and most online stores should be configured,and physical distribution to Look&Listen stores is in the process of being arranged. Capetonians can get the new Benguela from The Book Lounge and Mabu Vinyl, ask for it by name.
Filed in
Music
, September 5, 2012, 10:09 am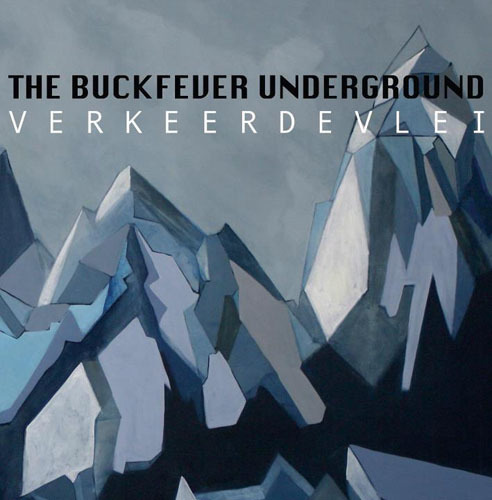 While 2012 may be a somewhat dormant year for the JHP imprint, two new albums have surfaced that I am immensely proud to be to be associated with. The first is
Verkeerdevlei
by The Buckfever Underground, the sporadic spoken-word collective I am guitarist of. It's the unit's first studio album since 2005′s
Saves
, and seventh album total, which means the BFU are inching into Whitesnake territory as far as longevity is concerned. The album also features one very big riff, 4 counts of singing, one kwaito tribute and one game show/Robert Plant mash-up featuring Jaco+Z-Dog's Jaco van Schalkwyk. The album can be ordered from this site
on CD
or as
an mp3 download
.
Geluk by The Buckfever Underground
The second album is Ella Joyce Buckley's truly sublime Blood Finds No Sea, a stunningly realised collection of songs with gloriously abstracted arrangements. I am in awe of the accomplishment and maturity of the arrangements, and very honoured to have been a contributor to the album. Highlights include the feral violence of Sister and Herds, contrasted with the almost painful fragility of Sallow and Coco Noir , and the atonal menace of Vaulting Inviolate in contrast to the exhuberant Oyster.
The album can be purchased digitally from Ella's bandcamp or contact her directly through her website to snag a hard copy in a gorgeous letterpressed sleeve. But don't take my word for it: here's a selection of tracks to convince you.
BLOOD FINDS NO SEA – SELECTED TRACKS by Ella Joyce Buckley
---
Filed in
Ella Joyce Buckley
,
Music
, August 26, 2011, 12:24 pm
I recently had my attention drawn to this blog post on the French music site My Car is Full of Plums ; it seems that Ella Buckley's music has inspired the writer to wax rather poetically
Run through Google translate the text reads: "Every man has his breaking point. Mine is called Ella Joyce Buckley. I left the road, I borrowed the dark forest trails that had rendered invisible to me, I plunged into the tumultuous waves, in pursuit of an unattainable woman, a woman who does not cross that once in his life, which will hopefully look even furtive look in which the spirit would drown. And I'm drowning in you, Ella Joyce Buckley. I become the slave of your magnetic voice, I am the artist who painted your face and when the bite from dusk takes me with terror, I get slapped your salvation."
It's great to see that Ella's music is growing legs internationally and inspiring some undeniably abstruse responses! This, coupled with the recent live clip is making me seriously excited for the launch of the coming album and the imminent live shows.
---
Filed in
Ella Joyce Buckley
,
Live
,
Music
, August 18, 2011, 1:32 pm
Here is a short clip of Ella Joyce Buckley performing the song Herds live with guitarist Alex Carpenter at The Delancey in New York on 17 Aug 2011. It is a stripped down version of a song that will be on her forthcoming album so it should give you a clear idea of what to expect.
---
Filed in
Music
, April 11, 2011, 3:58 pm
It's taken a bit longer than it should have but Ella Joyce Buckley's Sway Church EP is now available through our online store as CD-R or mp3 download.
The EP consists of  DIY recordings by Ella and showcases a more minimalist, mantric sensibility, which should give us an idea of what to expect from her next album, which she will be recording over the next month.
The tracklisting looks as follows:
Terroir Knot
Chambird
When He Arrived
Mazarine
Bloodsilk Rivermilk
Sway Church
In other news there are also new music videos for Ella's 'Terroir Knot' as well as Givan Lötz's 'Easy Now'.
TERROIR KNOT from Ella Joyce Buckley on Vimeo.
Easy Now by Givan Lötz from Givan Lötz on Vimeo.
---
Filed in
Music
, November 4, 2010, 8:00 am
These three lovely new additions to the roster are now available from the store page.
Meanwhile i'm off to play some shows in JHB/PTA.
---
Filed in
Jaunted Haunts Pressings
,
Music
,
News
, October 26, 2010, 4:27 pm
Ladies and gentlemen, we are about to virtually double our catalogue overnight with the release of 3 albums.  Two of them are re-issues, to be sure, albeit of albums  that wholly deserve inclusion on the catalogue.
The new release, by Ampersand, is entitled Demonomania, and is an EP of material he recorded in London when he was there.
Ampersand – Up Against the Sun

Then we are releasing a  new CD edition of his overlooked gem 'This is Not a Drill' – a collection of  lo-est-of-fi acoustic fuzz that is  by turns haunting and hilarious, but consistently, alarmingly brilliant. 'Twelve' also features the best use of a tuba/drum machine ensemble i've yet heard in this country
The other reissue is of Givan Lötz's  'Easy Now', remastered and repackaged. I've drooled all over this album so many times and in so many ways, that all that's really left to say is: LISTEN TO THIS.
The CD"s will be released on CD-R format in smaller editions (150) but in the same silkscreened sleeve you've come to expect. You can pre-order the CD's now from the online store, and the mp3′s will be available from the release date.
We will be doing a mini-tour of the north to celebrate this triple-release. You can check the FB event here. Dates at this stage are as follows:
Thurs 4 Nov: HOWL @ Wolves Cafe, 3 Corlett Drive, Illovo JHB – starting time 20:30, free entry with a donation at your discretion.
Fri 5 Nov: 4de Laan Teaterhuis, 109 4th Ave, Mellville, JHB: An intimate house concert courtesy if the inimitable Trouvrou: Starting time 20:00, tickets R70, or R100 with dinner.
Sat 6 Nov: Flat 4, Clarendon Court, Eastwood Str, PTA: Another house concert – starting time 20:00, tickets R70, or R100 with dinner.
Contact flat4studio@gmail.com for bookings.
Fri 12 Nov: The Bioscope, 286 Fox Str, Maboneng Precinct, JHB – this is the big one we're building up to, in a fantastic theatre setting with projections. Starting time: 21:00, tickets R60.
Online booking at www.thebioscope.co.za
More dates may well be confirmed yet so watch this space.
I may also add that i will be playing plenty of  new material that i am very excited about.
I have been making noises about a new Ella Joyce Buckley EP as well, although at this stage we have decided to postpone the release in order to re-mix the tracks – rest assured that this is all in the interest of the music sounding as good as it can, and that the new release date will be announced shortly. I can already personally vouch that  Sway Church will be FORMIDABLE.
---
Filed in
Music
,
Noise
, October 19, 2010, 5:27 pm
Experimental noise is not a form of music that one would readily associate with Africa. The most notorious illustration of this is the controversial compilation 'Extreme Music from Africa', released on Whitehouse nasty William Bennett's Susan Lawly label in 1997. The compilation later turned out to be a fluke, consisting in truth of pieces Bennett made himself and credited to fictional artists. Almost a decade later, Belgian label Syrphe released a compilation entitled Beyond ignorance and borders. An African, Middle-Eastern, Asian noise and electronic compilation, which, beyond one South African contribution and a smattering of way-up-north African ones, drew the bulk of its content from Asian countries.
One could argue that noise music is born from a malaise peculiar to hypermodernised nations, which would help explain why Japan is considered to be the epicentre of noise music in its purest form. But then, is it even desirable/useful/relevant for such a music to exist here in a way that does not simply emulate existing tropes?
An enigmatic figure with a novel approach to spelling and grammar, known only as Isadora Dustmite Junk, would like to argue that it is.  Over the course of the last year and a bit, he/she/it has been sending out calls for contributions to a compilation of experimental music from South Africa. The results have finally been made public, and it features a diverse cast of unknown artists who have crawled out of the woodwork given the opportunity to present their work in this context. What's more, you can listen to it right here.
afrikasouth rhizomatics by isadora dustmite junk
The curatorial premise of the compilation is deliberately left fairly vague, which means that the songforms of Sticky Antlers' guitar deluge Slownine and Nikhil Singh's skronkified rallying cry Nagasaki Nikita sit amid  more abstract contributions, and the ambience of Marco's For Klimek and Asqus' Mid-Atlantic 2007 (pt.1) coexist with brutally abrasive  slabs of noise.

It goes without saying that i'll be in thrall to anything that Benguela do, but it's worth noting that they contribute a track that's a marked departure from their usual. For Translation, they forgo the live momentum they're known for in favour of a heavily edited and processed slice of dark dub.

I was excited to hear something by Machette Jacobite, a duo touting themselves as a "nufangled circuit bent, noise based project".  Left Difficulty, however, feels like a massive let-down, being little more than cookie-cutter electro fare – i'll hold out on the hope that they have much more up their sleeve.

Anxiety Attack by Stenchworm is probably the harshest thing here, a distorted screamfest in the vein of Sudden Infant, deformed by ludicrously 'verbed percussion and  gurgling synth.
Vertical Blanking Interval's Green Square Market is an intriguing sound collage that relies on distinctive Cape speech samples for it's microrhythmic allure, although i am at a loss for why there's a seemingly unrelated vocal scrawled over the track that is both drowned out by and in complete conflict with the samples.
Some tracks suffer a bit from never having seen the outside of a hard drive and fail to transcend the trappings of sterility that often plagues  pristine electronica. Having said that, my favourite track here by far is Topsecret GBC Megamix by Retarded Dance Squad, a mixture of the daft tones of Black Dice with the precise, syncopated minimalism of Alvo Noto's Future EP. The whole track consists  of fragments of sinewaves and white noise (my guess is that the sounds are derived from executable files opened as waveforms), but expertly constructed so as to lend the purely digital tones  a carnivalesque irreverence. It works because it revels in its digital-ness,  but also manages to rise above it.
I should probably disclose that i have also made a contribution on the compilation: suffice to say that Anechoic Dialect is truly unpleasant: a no-input mixer and sampler experiment that sounds like having your head repeatedly dunked in a basin during a catfight. Whether or not it is as unpleasant as Facecontrol's  The First Thing You Should Say, which is marred by the kind of breathy, anguished American vocal affectation that Deftones inexplicably made acceptable, well, let's just say the jury is out.
AfrikAs0:u:+h rhiz0mA+iks shows every sign of being a continuous project, and it must be said that if the first batch of tracks turned up such a variety of offerings and continues to provide an outlet for uncompromising experimentation, we can doubtlessly expect wonderful things yet.
This is the facebook page for the compilation, and the blog is here.
---
Filed in
Music
, , 4:28 pm
The last while has had me make  a disproportionate number of music-related trips to Stellenbosch University's Conservatory (well, two in as many months,but that's still two more than most months). I've always been a bit wary of the rarified and isolationist air the US music department maintains among all the indie hipsters and rugby jocks there – in contrast, the UCT music department with its heavy jazz emphasis seems much more pro-active in terms of engaging its surroundings, but that may be based on jazz simpy being a more digestible form.
Having said that, i am curious as to whether modern composition in South Africa can bridge the seemingly yawning divide between itself and audiences who perceive it to be an inscrutable form with a tradition rooted in forbidding intellectualism. With that curiosity, and an eagerness to test my own meager theoretical background against the supposedly alienating edifice of the classical tradition, i thus set off to watch two different performances of modern composition held there recently.
The first occasion arose when Swiss pianist Petra Ronner gave a recital of pieces by Swiss and South African composers. I first met Petra when she performed a divisive set at EOW 2010 earlier this year, which must have played at least a part in a certain Cape musician issuing an unreasonably polarising diatribe decrying what he more or less summed up as the emperor's-new-clothes absurdity of 'the European academy'.
The intriguing Selbstgespräche by Max E. Keller had the pianist perform with what I will refer to as a delay unit with built-in modulations. The piece flutters between pianistic frippertronics and playing over ominously downpitched notes, and at one startling moment a cascading run down the keyboard leaves a glistening chord of delay trails in its wake.
Dimitri Voudouris' [O]-Rd: 2 had the pianist playing along to a quadraphonic sound installation. The program had a lengthy explanation about how the sounds derived from data captured at a traffic bottleneck in Gauteng, though it was unclear how this data actually ended up as sound.  No reason to complain, as the soundtrack was a thrillingly dynamic and alien-sounding pointillist foil to the erratic piano, the two occasionally locking into a frenetic call-and-response.
Pierre-Henri Wicomb's Earthed turns exposed jack-inputs into an extension of the piano; at first the occasional dull buzz they emit feel jarring, but as they become more prevalent in the piece and a variety of tone colors start to emerge, it begins to feel as if Ronner is playing piano over minimal contact-noise techno.
These are but a few of the pieces Petra played, but they were definitely the ones i thought worked best in terms of integrating the piano with electronics and giving rise to something new and consolidated.
Then, this last weekend there was a performance of Terry Riley's composition In C, by a group consisting of  music students and pupils from the Hout Bay Music Project. The composition, if you don't know it, could be likened to something of collectivist exercise in serialism: the score consists of 53 different motifs that individual musicians are given liberty to choose from and augment in whichever way they choose. the score provides, then, a tonal and rhythmic guideline, apart from which the piece could be considered more or less indeterminate.
Serialism is often, and rightly, thought of as being the most benign form of modern composition, characterised by hypnotic repetition, rhythmic straightforwardness and harmonic prettiness. Not that this is any ground for derision; the sound that came from the stage was mesmerizing – shimmering overtones arising from the harmonic centre of the piece subtly shifting over the metronomic pulse of the piano as the musicians individually progress through the score. This all happened within about half an hour, however, and soon some of the problems with this compositional strategy as collectivist exercise became apparent. After the harmonic shifts that arguably provide the 'surface' impetus of the piece have taken place, the group found it very hard to reach a concensus on when to call it a night. They carried on playing for easily another 45 minutes, and seeing as how the music is designed to sustain tension but never provide release, the music fell into a pattern of frustratingly repetitive dynamic peaks and troughs that had nowhere to go. Ultimately, all this really amounts to is a situation similar to having an old friend that you adore but don't have that much in common with anymore, over for coffee and getting to the point where you run out of things to say, and every sentence starts with 'So…'.
So…..no question these were both performances of engaging and interesting contemporary music. Still, it feels a long way from performances of Stravinsky inciting riots. Does anyone have any thoughts on how contemporary composition should adapt if it is to find a place of relevance in South Africa?
again, all images except 'In C'  ©2010 Niklas Zimmer, used with kind permission
---
Filed in
Music
, October 18, 2010, 12:05 pm
Once again, Pan African Space Station, now in its third year running, has proved to be one of, if not THE, most excting music events in Cape Town.  I had a very busy week myself in the week of the live events, so i could unfortunately only catch Kyle Shepherd and septugenarian guitar prankster Philip Thabane & Malombo at St. Georges Cathedral (which Roger Young described beautifully here), and Imperial Tiger Orchestra at the Albert Hall (which he touches on here) – both great shows. Apart from the live shows, there was also an internet radio station that broadcast DJ sets and live performances, of which i was given the opportunity to do one myself.
In the wake of  the month-long intervention i have been thinking about what exactly makes this event so refreshing. A lot of it has to do with the excitement it manages to generate around truly interesting, often underappreciated local artists, and especially, how that excitement cuts across  demographics and lays waste to the cultural and aesthetic cliques, that, i feel,  encourage a sense of cultural complacency and undermine potential for cross-pollination of ideas. Call me naïve, but especially at the jam-packed Albert Hall gig i felt like a part of a truly post-colonial, post-diasporic cosmopolitan crowd, joined together in mutual awe of the Imperial Tiger Orchestra's arabic-tinged jazz.
Many many kudos to Ntone Edjabe, Neo Muyanga and the rest of the Space station crew, i can't wait to see what you guys cook up next year!
images ©2010 Niklas Zimmer
---
Filed in
Music
, September 29, 2010, 9:51 am
This is the review/mope on the Sticky Antlers i wrote for Mahala, sans editing . (Whispers) I kinda prefer it this way.
The Sticky Antlers are no more. No clash of egos, or bitter disillusionment with the lack of audience for a band of weirdos or personal fallout, it's just that one of the members is going to study abroad and the feeling is that without that member, it's not the Sticky Antlers anymore. So that kind of sucks, as they've only come down to Cape Town once, and at that time I happened to be away. So I've never seen them live, and now I never will.
There's also no-one else quite like them around right now; in fact it's disconcerting how peculiar a gang of unassuming alt-rock outsiders seem in this current climate of relentless social media hype and the guy from New Holland's risible hair. From what I can gather they live together in a house, where they record on an old Fostex 16 track tape machine, craft handmade merchandise and make primitively animated music videos. This borderline technophobic approach extends to a slight wariness of digital formats; when quizzed about their new album's availability as a download, band member Damon replies that they "are not anti-digital", but have a marked preference for physical media and it's ability to represent more than just the music it contains, and are wary of contributing to the encroaching information overload which is making ADD hyperconsumers of us all, "severely cheapening one's experience of new music, and diminishing the impact of an album, especially if the album in question is 'difficult'." While it may seem like a perverse form of self-sabotage to eschew the distribution method du jour, it's nice to have a band that actually thinks about these things and their implications, and are prepared to take some kind of stand. In fact ever since I've received this album in the post and put it on, I have been afflicted with a gnawing nostalgia for finding albums I've heard about (on CD, of course, I'm a young 'un) among all the discarded dreck at the secondhand stall in my hometown back in the day, and playing it to death.
They have also left us with their swansong album, Tupperware Tombstone, as a parting gift, an album that showcases just enough development in terms of transmogrifying noise rock into excellent songs for me to be even more dismayed at their demise. Whereas their previous self-titled album mostly verged on Les Georges Leningrad-level hysteria (Blind Horse) and near-industrial abrasion (Sickman of Africa), Tombstone is, to my ears, a much more detailed, hell, even sedate album (taken within context), liberally sprinkled with moments of brilliance and tape-delay trails.
Opener I'm Being Shadowed bombards you with the familiar Antlers traits: guitars, drums and vocals all shredded by distortion, but it is followed by The Outside World, an uncharacteristically delicate Antlers song, with Le Muerte's blasé vocal sounding somewhere between Suzanne Vega and Kim Gordon on Kool Thing. Restraining Order is built around a beautifully chiming riff while Yawning During Incantation is a brief, cathartic purge, similar to KOOS' Breed Like Rats, a nice reminder that these guys used to be a band called If You Are What You Eat I Can Be You By Tomorrow.
This goes straight into Papertail, a cartoonish romp that builds itself into a manic momentum. Sticky Antlers – Papertail
The closing salvo of My Favourite Part is the End and Arx of Sear find the band venturing into more abstract territories: the former is a shadow of a song sandwiched between noise jams, while the latter is post-rock, when that still referred to kids who'd listened to too much Spiderland and felt inspired to create a sense of musical suspense using little more than their modest guitar skills and maybe some opaque field recording. More of this next time please – oh yes, there won't be a next time.
Also included with a limited edition of the album is the retrospective DVD 'Like it Never Really Happened', comprised of live footage that drives home how confrontational this band's noise could be, and music videos that balk at the very idea of production values. Sickman of Africa's one long shot of a grotesque sock-puppet vomiting into a toy loo probably did not get heavy rotation on MK89.
While the end of the Antlers definitely does not imply total silence from the KRNGY camp (offshoot band Make Overs are already gigging around JHB/PTA), I can't help but feel that this particular incarnation was in the process of creeping ever closer to relative prominence. Perhaps it's better that they now remain forever confined to this hypothetical space ripe for mythologising by overeager speculators like myself, but the path they were beating out could have led to some interesting places yet. One last tour also wouldn't have been amiss.
Contact the KRNGY logo to get your hands on this.
---